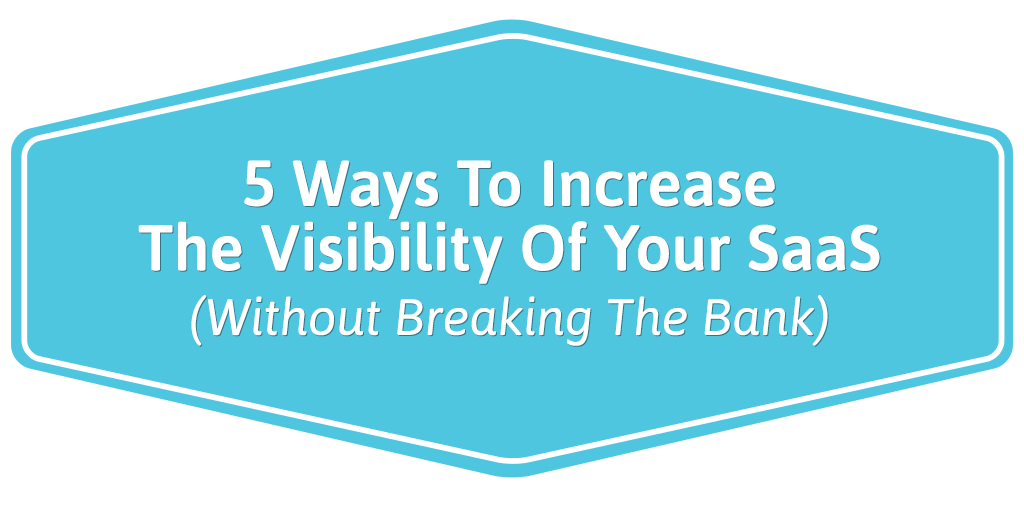 If you are a relatively early-stage SaaS, then your success or failure hinges on acquiring new customers quickly, before any funding you have dries up.
If you're in search of VC funding, growth and potential for growth are still vital parts of your pitch.
Your ability to increase the visibility of your SaaS will make all the difference when it comes to growth, but of course you don't want to use up all your funding on expensive marketing methods.
While you will need to spend some money on marketing, there are some very effective strategies you can try which are either free or inexpensive.
Here are 5 ideas to get the most from marketing without spending large sums…
Make Informed Marketing Decisions
If you are absolutely brand-new, your decisions on how to market your SaaS will have to come from your initial customer research, or analysis of what's working for competitors. If you've been in business long enough to have your own customer data, that's where you want to start to understand where you should focus marketing efforts.
1. Know How Your Customer Makes Decisions
Peter Cohen makes the point that SaaS often discounts old-fashioned marketing methods because SaaS is so new that older ideas are rendered obsolete.
The thing is, as he further points out, the way that customers evaluate and make purchase decisions has not necessarily changed. The simple solution? Just ask them how they evaluate and make the decision to buy SaaS products…
2. Cohort Analysis
This strategy is for the SaaS which has customer data to draw from. Simply put, it means analysing a group of your customers who have a statistical factor in common.
At basic level, you might group together customers who signed up at the same time and look at their retention rates over time. However, to help you decide on your marketing efforts, you will need a slightly more complex analysis.
Oana Raveica suggests further breaking up the demographics to include factors like the journey they took to sign up with you (for example, via a blog post, or a pop-up on your website…). You could also include factors such as the device they typically use or their age or location.
Conducting a cohort analysis correctly means that you understand the behaviors of your audience demographics and can make an informed decision about where to focus marketing efforts. If more customers are likely to be upsold via a blog post, then you create more informative posts. If iPhone users are more likely to stick around, look into mobile advertising.
Keep up to date on the latest in SaaS and marketing. Check out 6 of the best podcasts here…
Beware The "Marketing Hack"
It's tempting to look for that ingenious gimmick or "marketing hack" which will unlock the floodgates of visibility for your SaaS. But the journey from visibility, to acquisition, to retention of the client is more complex – even if you did suddenly achieve a huge boost in visibility, will it equate to long-term growth?
In the words of Peter Cohen once again:
"Acquiring and retaining customers is a long-term process. There's plenty of room for clever, creative, even ingenious tactics, but marketing SaaS solutions, especially to enterprises, is a multi-step process.  Companies need to build visibility, attract leads, cultivate opportunities, close them into leads, and then on-board, retain, and upsell them."
That being said, here are some strategies that could boost your visibility as part of a well-thought-out end-to-end plan…
3. Stake A Strong Position
Positioning is a point often overlooked by companies, but it plays a vital part in your visibility and attractiveness to customers.
The customer in the first instance is interested in what you stand for – your identity and personality, rather than the what and how of your SaaS. It comes down to being relatable and having a recognizable brand identity, something which will impact every other area of your business.
SaaS is no longer a new concept, so there is a lot of noise out there for your customers to cut through. Know what you want to be known as and known for so they have some clear points of differentiation.
Check this out from AVC's post on "Minimum Viable Personality".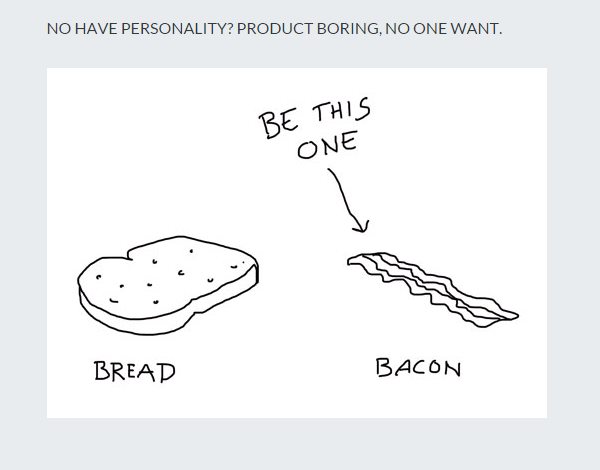 Let's not forget what the final "S" stands for – "service". Your software may be the next most remarkable piece of engineering, but it should use language that personally relates to customers. Taking a strong position which cuts through "software jargon" and sits in service to the customer is a great start.
4. Content Amplification
Yep, you've probably already seen or heard of the results of content marketing, and may even have started your own blog, but effective content for your SaaS takes more than knocking out the occasional post.
As a general rule, effective content must:
Be on a regular schedule.
Be useful to your desired audience.
Be logical in terms of relating to your business.
Offer list entry points such as opt-ins.
Spread beyond your blog.
As far as not breaking the bank, content is not necessarily a cheap solution. You need content that is high-quality to get the best possible results, which means either considerable time producing it yourself (not always ideal), or hiring someone with the skills to make it happen.
What do we mean by content amplification? It means using a variety of methods to fulfill that last point on the list – spreading content beyond your blog. When done well, this is again a considerable time investment, so you may want to consider hiring someone who will do it for you.
Based on what you know of your customers from points 1 and 2, try some of these free or paid methods:
Take snippets out and tweet them. You could also use "Click To Tweet" quotes in your blog posts, inviting readers to tweet them too. Just make sure you have included a bit.ly or similar link back to the original post so that viewers on Twitter can get there.
Repurpose content for other platforms or formats. For example, Slideshare presentations, infographics, video snippets, podcasts, Medium or LinkedIn posts. Make sure any of these you use link back to the original, or to a landing page for your site.
Social Media. Schedule out 8-10 posts over time on the platforms you use. Remember you can still promote relevant content six months after you wrote it. You could also try paying for the promotion of your posts.
Syndicate to another blog. Business 2 Community accept applications to syndicate your posts as long as they meet their quality standards. You could also reach out to other relevant (preferably well-trafficked) blogs to see if they would run your post.
Guest post. Unlike syndicating the exact content you already wrote, guest posting tends to involve writing an original piece. Develop criteria for the sites you would like to appear on and check out their rules for guest posting (if they accept them).
Paid content syndication. Services such as Outbrain or Taboola will get your content seen in those 'from around the web' or 'you may also like' sections at the bottom of popular websites.
Online forums. While you cannot always post your entire content piece, participating in relevant forums can allow you to answer related questions and link back to your work. Some examples are Hacker News, Inbound.org, Quora or Reddit.
Content upgrades. These are a great way of getting opt-ins from your post. Create something useful such as a checklist or worksheet related to the post. Have calls to action in the post which invite readers to the free upgrade in return for their email address.
What's working for others? Check out these 6 podcasts to keep up to date with strategy…
5. Referrals
A simple solution, but word of mouth works. Laxman Papineni explored referrals for SaaS and found research to show that word of mouth is still the most influential form of marketing.
Your referral system could be as simple as setting up social share messages that your happy customers can share, or you could incentivize the referral as many SaaS companies do. For example, you may like to offer free upgrades, a month or two free (if they're already premium clients) or some kind of points system like Evernote.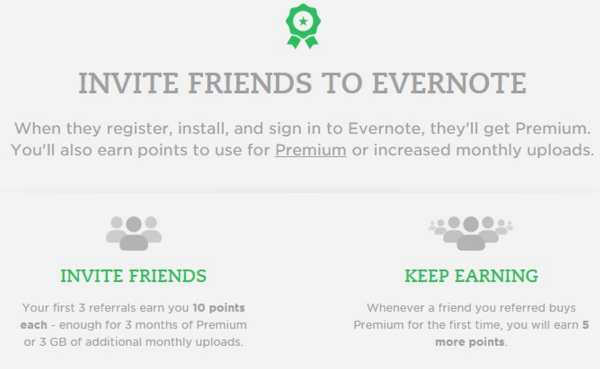 Final Thoughts
Increasing the visibility of your SaaS starts by building a good foundation so that you can be more strategic with how you market.
This means determining your brand positioning and developing a clear understanding of your customers before committing to any time-consuming visibility strategies.
If you have the basics sorted, try some techniques from this article to boost your visibility. While not all will suit everyone, they are simple to execute and can be done without busting the budget…