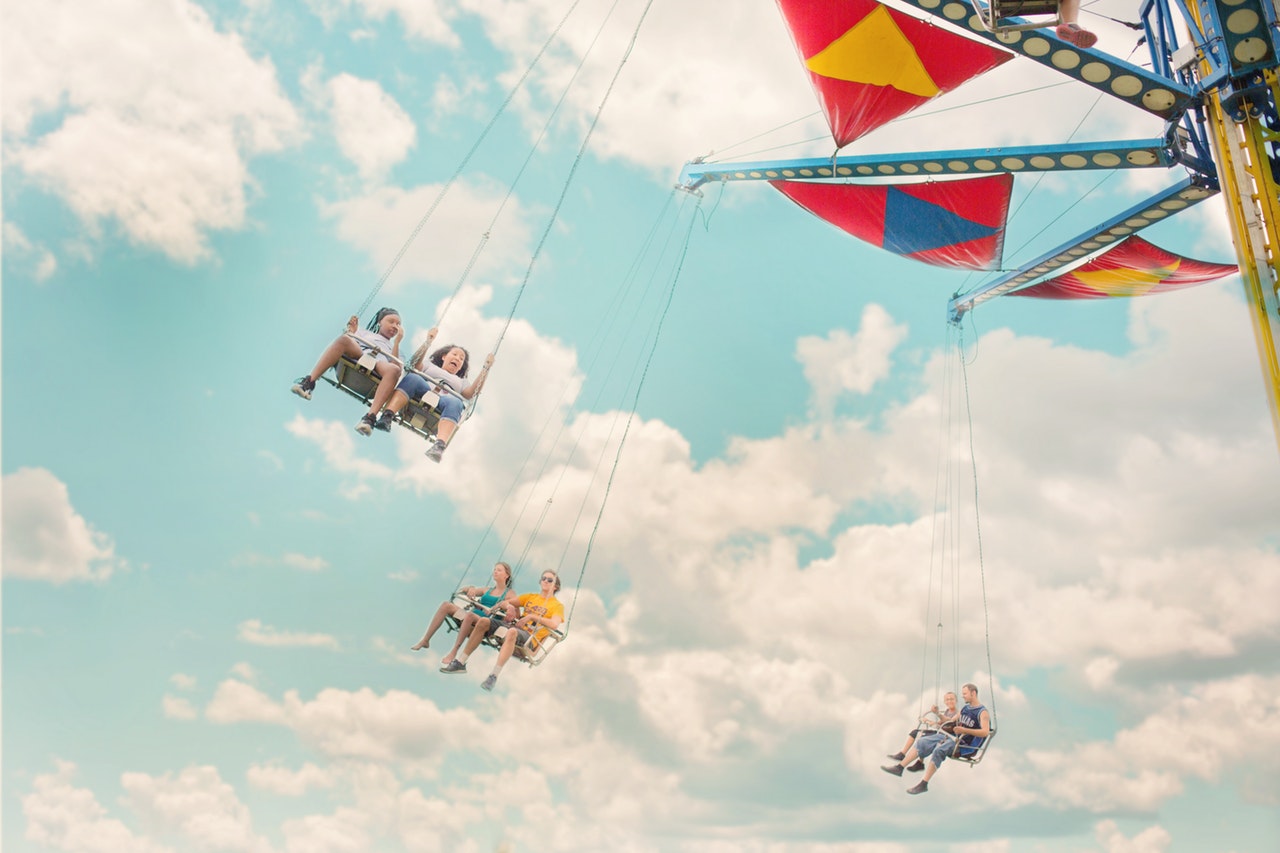 If you've been in the SaaS game for a while, you know one thing for sure: The marketplace is pretty crowded these days. Every week, it seems, a brand new SaaS is taking center stage and everyone's attention. Your unique and awesome idea now has stiff competition.
When a new SaaS comes on the scene and threatens to poach away customers, a lot of SaaS take the faulty approach of recruiting new customers to replace those whom they lost. However, the best strategy to maintain your SaaS is to keep your customers happy– and that requires creative thinking. Fortunately, you're no stranger to innovation.
In this post, we'll discuss how you can delight your customers into a state of bliss and loyalty. In fact, these strategies can actually help grow your business, by activating word-of-mouth referrals. Let's get started.
Here's a list of ways to 10 ways to surprise your customers.
Reward Loyalty
Create a roadmap that allows customers to earn special gifts, upgrades, or surprises based on their level of activity. The key here is to surprise your customers– don't let them know ahead of time that a certain activity will earn a certain reward. Instead, bake it into your customer's roadmap, so that when they achieve a certain milestone, they are rewarded automatically. Of course, if a customer's activity level is waning, or if you simply want to keep them inspired to stay active, you can hint that a new surprise is on the horizon.
Offer these pop-up rewards consistently throughout the customer's lifecycle. They'll eventually catch on that at some point they'll get another gift for continued participation. It almost gamifies your SaaS which will keep your customers engaged and, quite frankly, hooked on the next surprise.
Don't Just Reach Out for Business as Usual
Instead of only connecting with your customers for general business housekeeping (i.e. payment issues, app updates) or when you need to promote a new service or upgrade, consider offering a thoughtful gesture. No strings attached.
For example, if you know that your customers are interested in a specific industry, you can send a round-up of the latest news posts related to that topic.
The idea here is to be generous and helpful. This extra step may not be necessary but, because it provides so much value to your customers, they'll begin to look forward to this new interaction with your business. It's a perk that will inevitably deepen your customer relationship and make it more difficult for them to leave you for the next SaaS.
Don't Forget to Be Human
Most SaaS don't interact with their customers beyond email or live chat. But that type of interaction can feel awfully cold and robotic. As a customer, am I sure that Steven is an actual life form and not a chatbot who's programmed to respond? No, I'm not.
However, when you pick up the phone and call? Or send out a handwritten note? That leaves a pretty human impression.
While you may not have the setup or bandwidth to achieve constant physical interactions with your customers, you can surprise them every once and while by going the extra mile. For example, you can start off your customer's journey with a branded t-shirt. What a fun and unexpected gift that also serves as free advertising for you if they actually wear it. Double score!
Also, if you love the idea of sending a handwritten letter, but aren't sure you have the time to do it, consider a service like MailLift. Simply send MailLift the content of your message and then the good folks at MailLift will hand write it for you. Stationary and stamp included! Thankbot also provides a similar service.
Delight Your Customers With Transparency
Sometimes, the most surprising thing you can do is to be completely upfront about your business. A notable SaaS example is Buffer, who is committed to sharing everything about their company, including salary. The result? The company immediately builds confidence with the customer.
While you may not wish to take the drastic step of publishing your salaries, you can be transparent in other areas. For example, you can create pricing transparency by breaking down every cent of the purchase. When you conduct your business with honesty and straightforwardness, it sends a powerful message to your customers that your business is dependable, ethical, and trustworthy.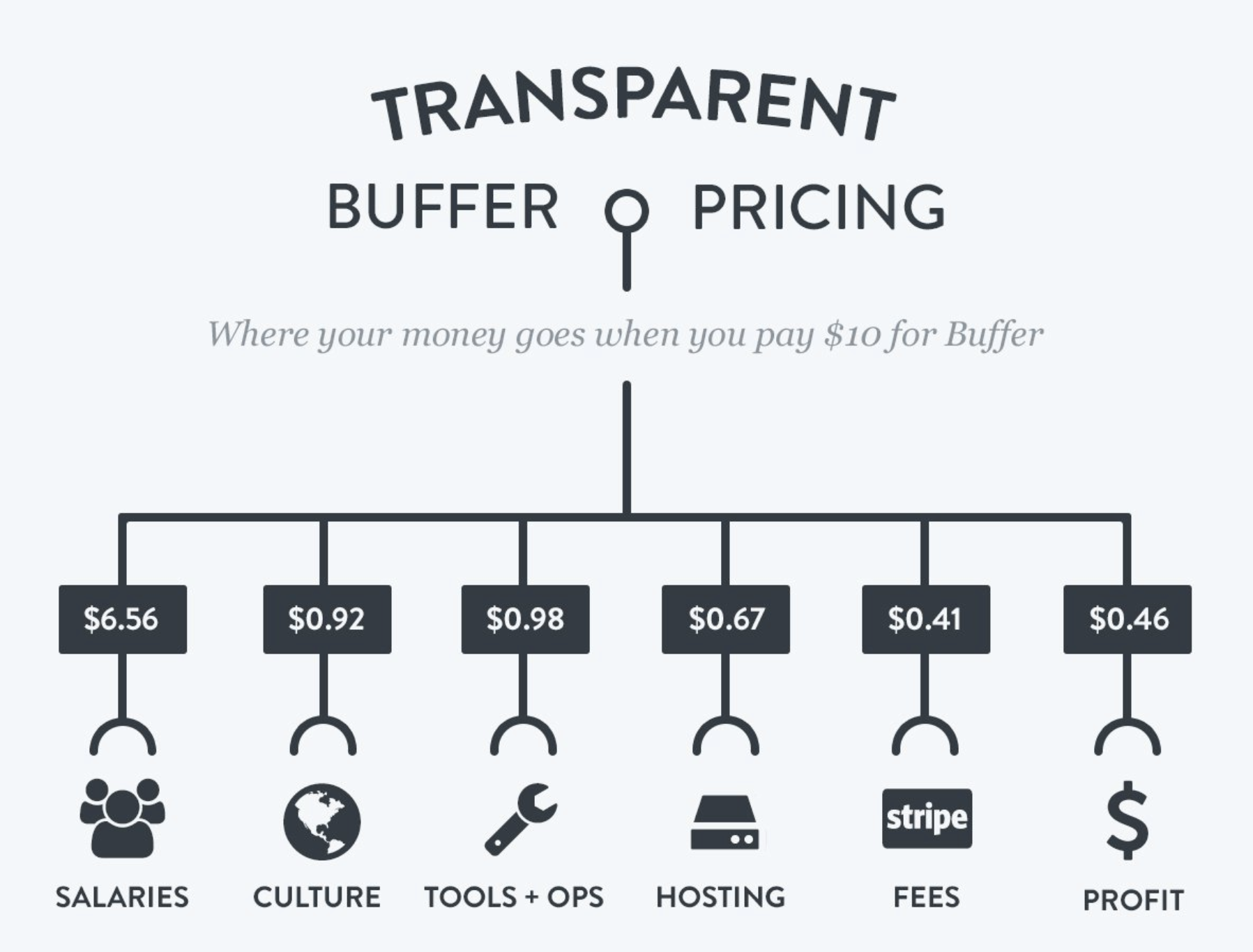 Encourage Your Team to Delight Your Customers
Customer delight is a group project, for sure. While you can set certain surprises up in advance, you should make allowances for real-time interactions. It's guaranteed that some of your customers will encounter issues with your service. But that issue could be transformed into an opportunity to delight the affected customer and win them over for life.
To do this effectively, empower your team to make decisions that will not only satisfy but also thrill your customers. From free upgrades to price adjustments, your team should be independently able to combat a negative brand experience with a positive one.
Of course, you'll want to assign internal limits on how much your team can "give away" without supervision. Consider setting a weekly or monthly "delight" budget for your team members and encourage them to use it whenever they deem appropriate. Sure, you'll need to have a lot of trust in your team for this to work, but hopefully, you already do.
Shout Out on Social Media
Do you have an active community on social media? If the answer is yes, use social media to surprise your customers.
One of the easiest ways to do so is to "randomly" choose a customer of the week. Post a pic and a thoughtful (and/ or fun) message about the customer. Don't forget to give them a head's up that you've highlighted them as your customer of the week. You can choose customers to highlight based on any criteria that you like, from user activity to customer loyalty. Surprise and reward your customers for simply being your customers.
Also, take the time on social media to respond to your customers. There are few things more cringeworthy than watching a customer reach out to a business without getting a response back. Take an active approach to your community on social media. When customers link to your services, or even your blog, reply with a thanks. The extra effort will go a long way in delighting your customers.
Commemorate a Special Anniversary
Whenever your customer reaches a special milestone, such as a customer anniversary, it's a good opportunity for you to commemorate the event. It's common practice to send a special email to recognize the event. But to truly delight your customer, think outside of the norm. For example, you can send a special gift card to a related service. (Perhaps you can partner with that service for a company discount.) Or you can make it a true celebration and even send cake like Freshbooks does at random!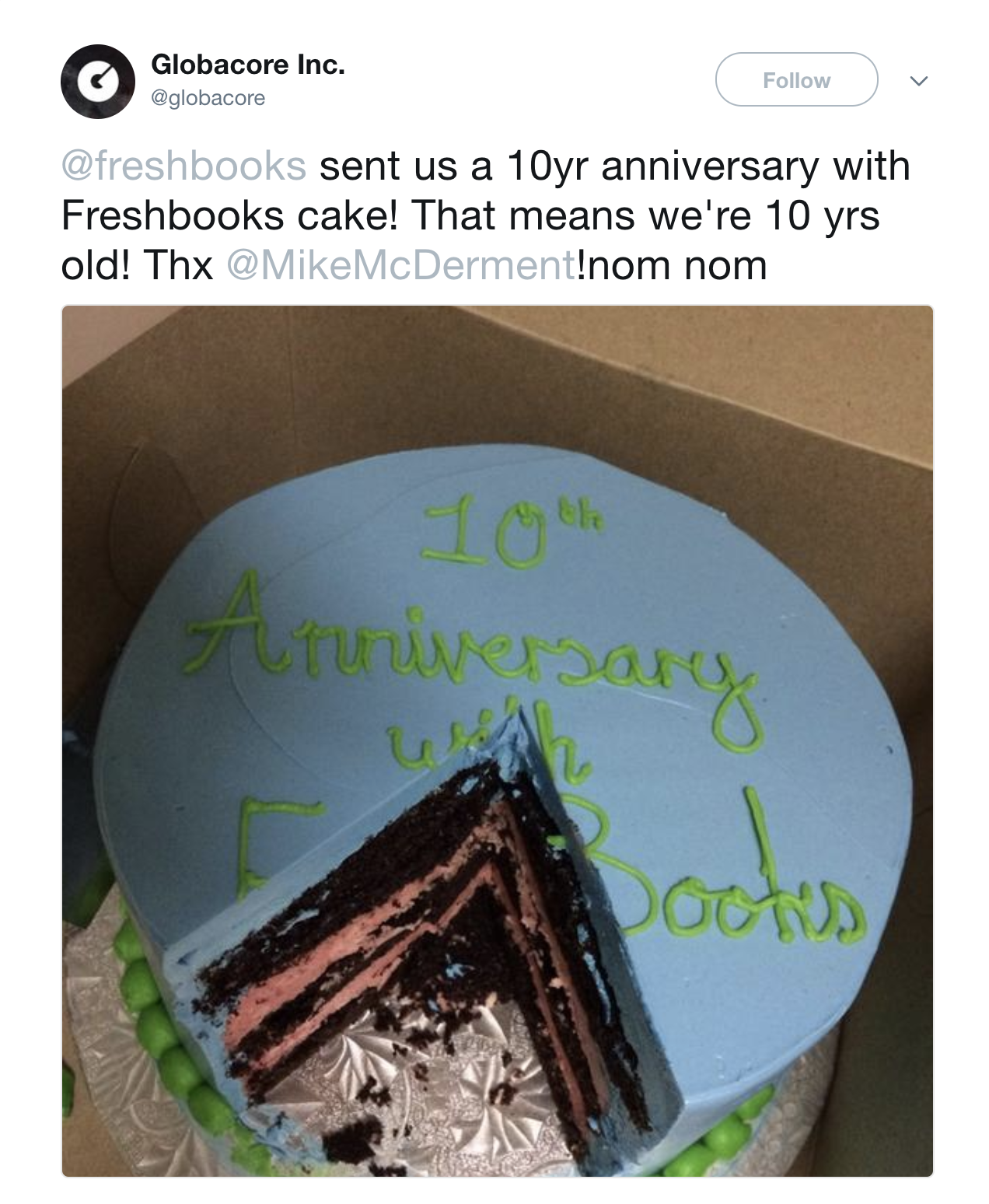 Image Courtesy of Globacore, Twitter
Final Thoughts
Delivering surprise to your SaaS customers will ensure that your retention rate stays high. Use the above tips to create a sense of glee with your customers.
Before you go, be sure to check out the following related posts:
Don't forget to download your list of 10 ways for surprising your SaaS customers.